SunCal's Sixth & Alameda Is The Biggest Arts District Development Yet
September 24, 2016
By Eddie Kim
LOS ANGELES DOWNTOWN NEWS
The development scene in the Arts District has been red hot for years, but now it is reaching an unprecedented level: Irvine-based developer Suncal has released details for its roughly $2 billion mega-project Sixth & Alameda. If it comes to fruition, it would be the largest, most diverse and most ambitious development ever to hit the community.
Earlier this year, SunCal tapped Pritzker Prize-winning Swiss architecture firm Herzog & de Meuron to create the vision for the 15-acre site on the southeast corner of Sixth and Alameda streets.
The existing patchwork of produce warehouses and other buildings would be demolished to make way for a series of roughly seven-story concrete-and-steel buildings, arranged in long north-south rows. Two 58-floor towers would rise along Alameda Street.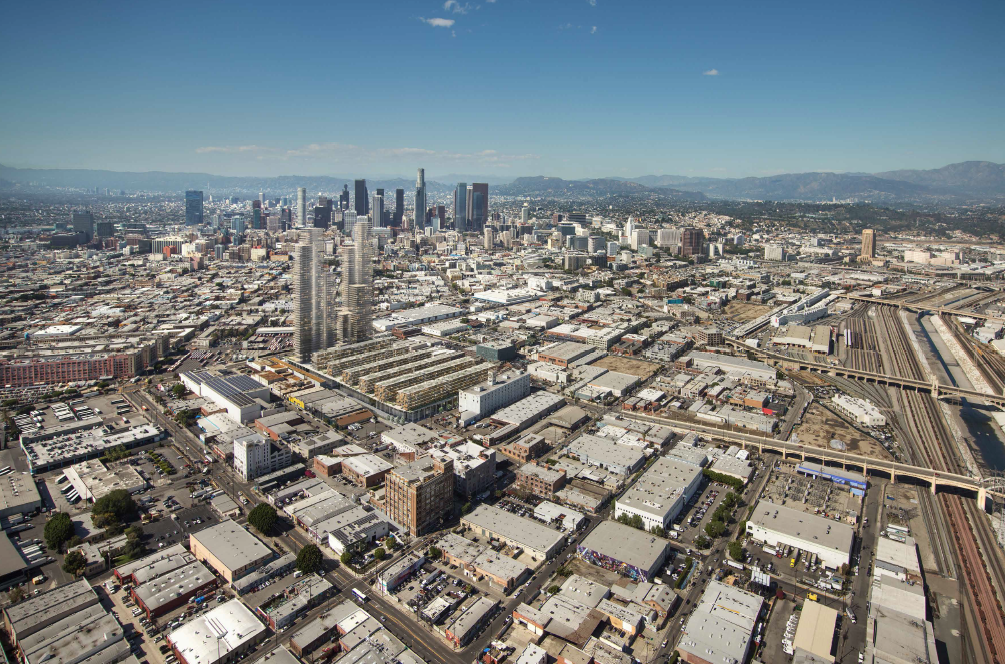 "Unlike many of our peers, who are essentially proposing suburban residential building designs for the Arts District, we are very explicitly trying to understand the genetics of the Arts District and give it something for the permanent future," said Dan Rosenfeld, a land-use consultant for SunCal and a longtime Downtown real estate player. "We're working in a vocabulary of modern architecture, and we did not want faux versions of bow-truss ceilings and distressed brick."
The size and scale of the project is staggering. It would have 1.4 million square feet of apartments and 674,000 square feet of condominiums (comprising 1,305 apartments and 431 condos).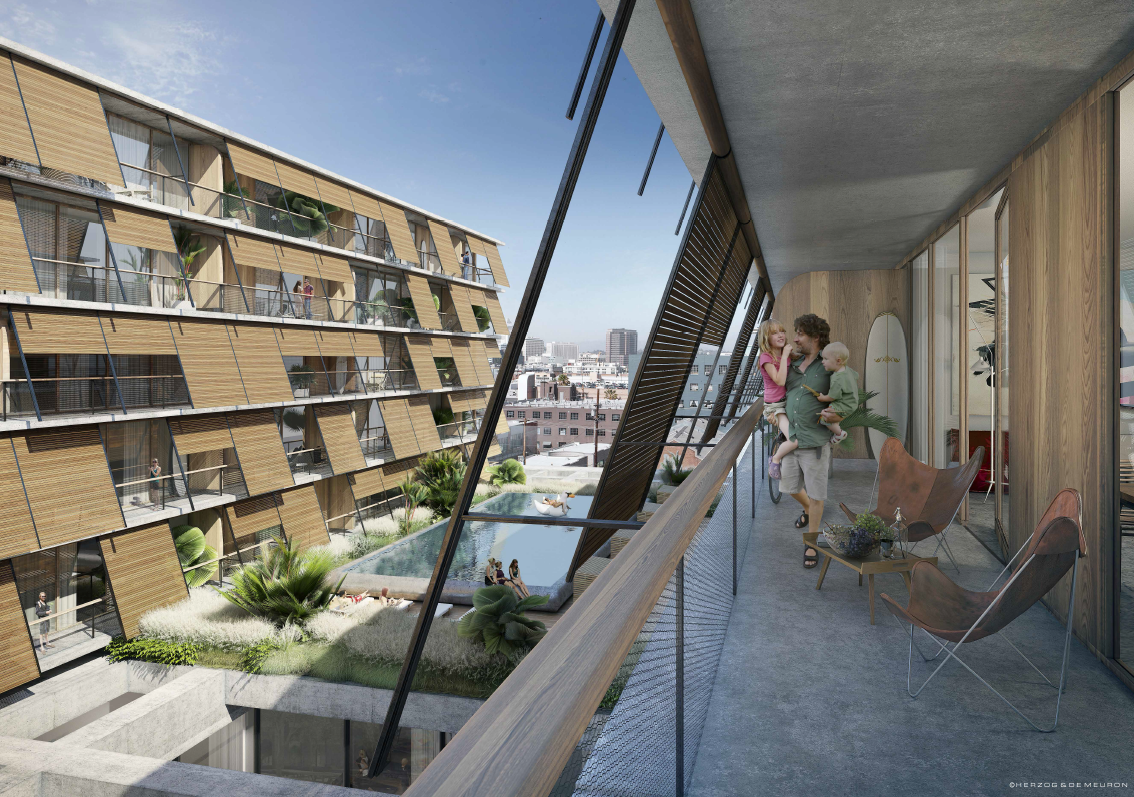 There would also be 265,000 square feet each for a hotel and offices, 64,000 square feet of retail, 18,000 square feet for a school, and another 18,000 square feet for "cultural" uses (early ideas include a gallery or museum).
Pedestrians would find restaurants and shops on the ground floor between the rows of buildings, and the design is partly inspired by the alleyways and side streets that help define the Arts District's character.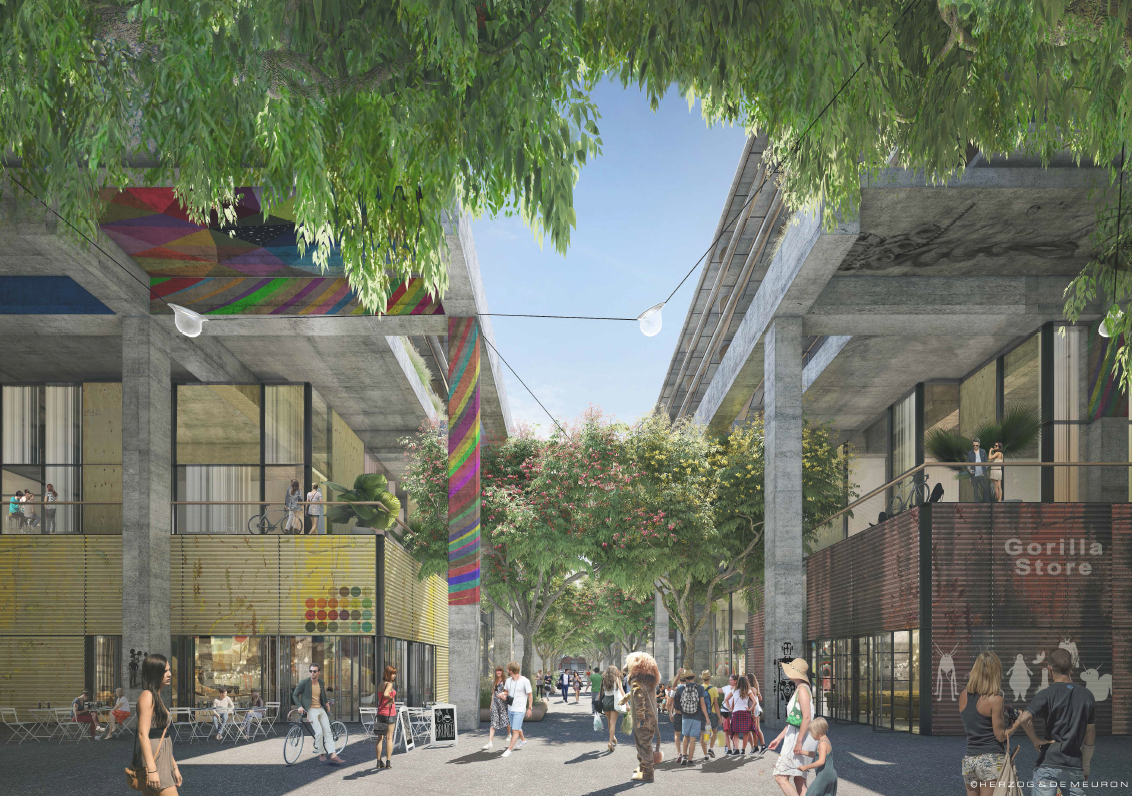 A series of huge concrete overhangs would offer shade and architectural diversity, with offices, for example, overlooking the retail corridor and apartments layered higher up. The residential buildings would feature pockets of shared open space such as pools and lounges. Balconies are a key element in the mid-rise buildings and the towers.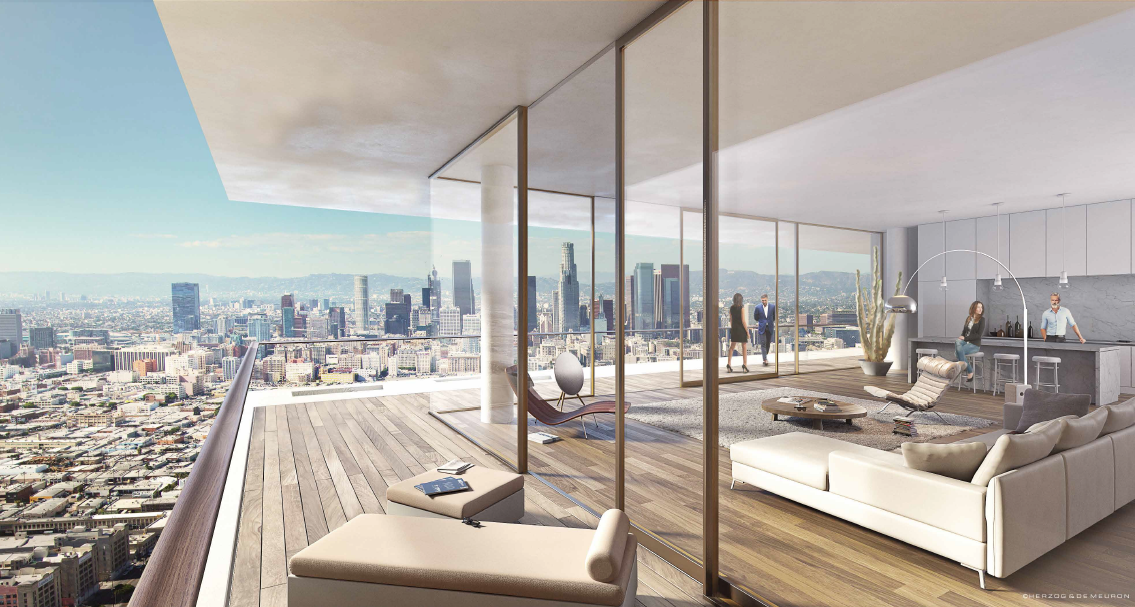 Herzog & de Meuron is known for its landmark projects such as the Bird's Nest stadium built for the 2008 Beijing Summer Olympics and the de Young Museum in San Francisco. It is partnering with Downtown-based A.C. Martin and landscape architect Mia Lehrer and Associates on the SunCal project.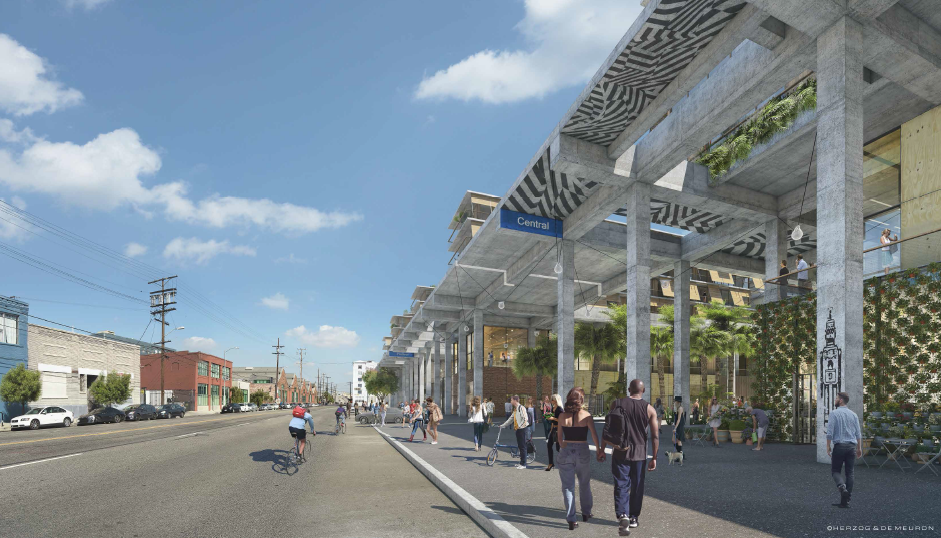 Creating the current design required some experimentation by SunCal. The developer initially considered breaking the plot, which it acquired in March 2015, into parcels and working with a number of different architects.
That resulted in dramatic but incoherent designs, said Rosenfeld, partly because each firm aimed to "hit a home run." Herzog & de Meuron were hired in early 2015. Their expertise in legacy projects will be transformative, for better or worse, in the Arts District.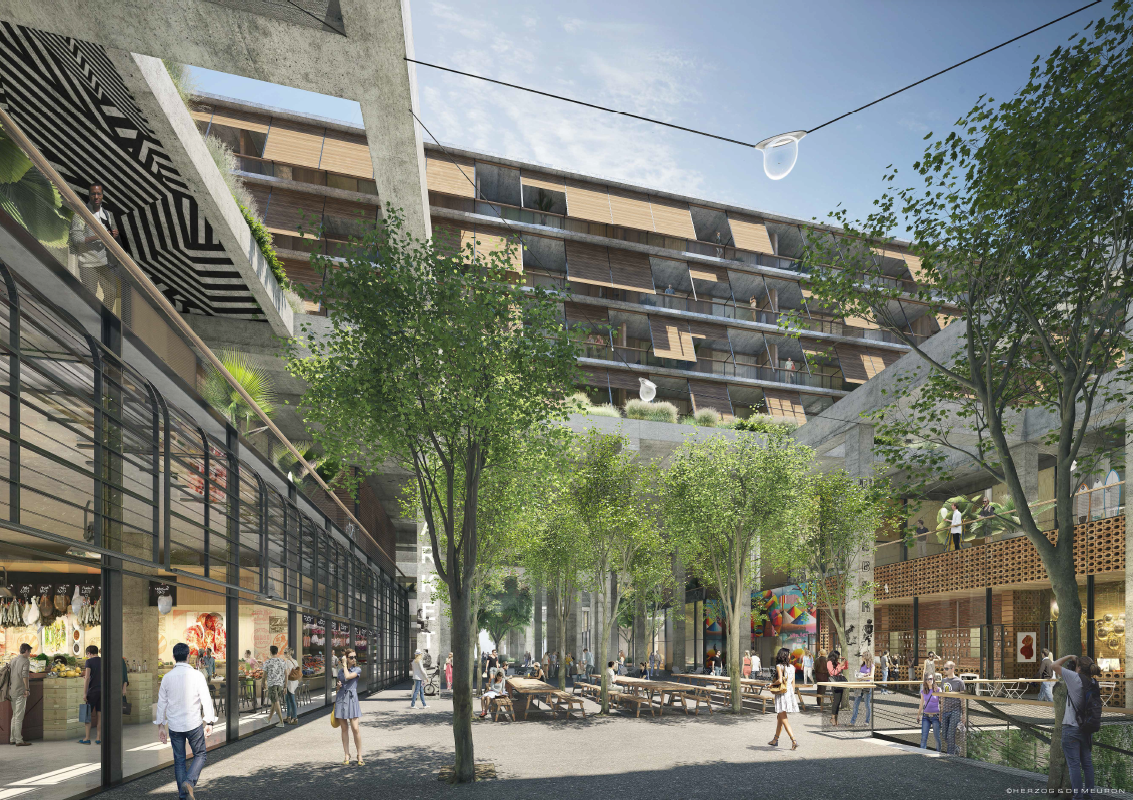 "You can't stop the change in the Arts District, but you can try to raise the bar. That's what we are doing," Rosenfeld said.
SunCal is expected to formally submit the project to the Department of City Planning for review this week. Securing entitlements and getting community feedback as the design is finalized is expected to take two years.
Construction would begin after that, with the project arriving in three phases, though the opening timetable remains unclear.